Raz-Lee Security is providing IBM i shops another option when it comes to anti-virus software by offering an ICAP client that offloads CPU-intensive virus scanning activities to an external server. The new solution is being sold as an extension to Raz-Lee's existing Anti-Virus solution.
While the IBM i operating system is essentially immune to PC viruses, they still pose a threat to IBM i shops, which typically have a smattering of Windows desktops and servers on the network. The problem is that Windows viruses (and assorted other malware) can infect the IBM i server's Windows-like Integrated File System (IFS), where they can fester and propagate and cause new infections.
Raz-Lee Security addressed this concern with its Anti-Virus software, which it first started developing way back in 2005, when the server was still called the iSeries. The Anti-Virus component of Raz-Lee's iSecurity suite was developed as a PASE-based IBM i program that utilized the open source ClamAV malware signature file to detect malware on the IFS. The software ran in both real-time and batch modes, could scan email attachments, and quarantine infected files, among other capabilities.
ICAP stands for Internet Content Adaptation Protocol, which is essentially a "lightweight protocol for executing a remote procedure call on HTTP messages," according to the Internet Society's 2003 RFC 3507, the document that defined the protocol.
ICAP was explicitly created as a way to extend proxy servers on the Web, primarily in the context of virus scanning and content filters, thereby freeing up resources on the main servers they support. In this manner, Raz-Lee uses the ICAP client to offload virus scanning from the IBM i server to other servers connected to it.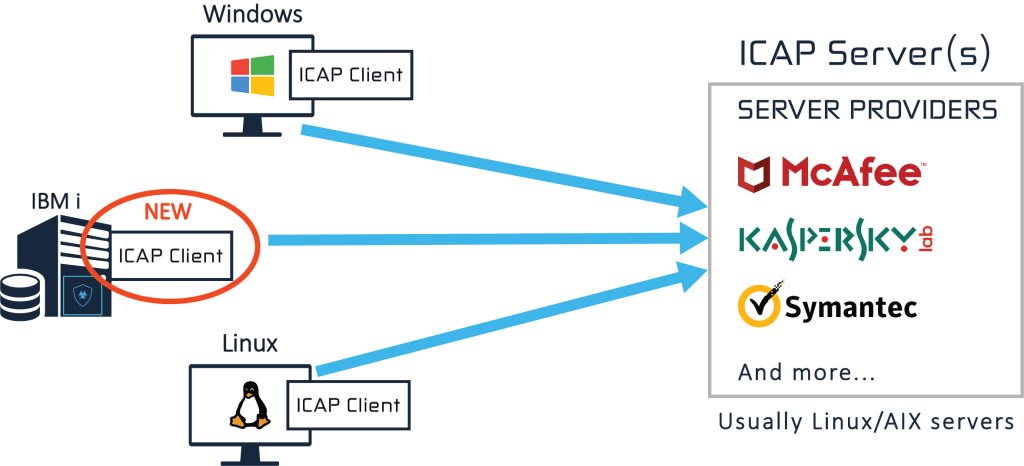 "When the ICAP Client for iSecurity Anti-Virus is enabled, iSecurity Anti-Virus can hand off virus scanning to an inexpensive external server," Raz-Lee states in a press release. "Since virus scanning is CPU intensive, using ICAP reduces this load from IBM i servers."
What's more, this approach also allows IBM i shops to utilize the malware libraries developed by other antivirus companies, Raz-Lee says. "The organizational anti-virus server can run virtually any anti-virus that exists in the market, including Symantec, McAfee, Kaspersky, and Sophos," Raz-Lee says in its press release."
Shmuel Zailer, CEO of Raz-Lee Security, says the new ICAP Client for iSecurity Anti-Virus guards IBM i systems with cutting-edge protection technology.
"It reduces CPU usage and CPU peaks while enabling an organization to use the virus scanning solution of its choice," Zailer states in a press release. "The ICAP Client provides a consistent solution that frees your IBM i CPU from the burden of virus scanning, so you can protect your systems effectively and efficiently."